Because we're always excited to test new sources of steroids and growth hormones, we're taking you to the steroidscenter.com website today. It's an online store that sells growth hormones. It deserves to be known because it has gained a certain reputation among users. To satisfy our curiosity and at the same time help our readers find a reliable source, we reviewed the site, placed an order and evaluated all its services. The details reviewed are in the rest of the article!
Test date : Mai 2017
Long years of experience behind her
steroidscenter.com is clearly not one of the new growth hormone sales sites that are currently popping up on the internet. It has been present since 2004 and we think that if it is still in service until now, it must be reliable but you never know. The website seems to be ergonomic and very well managed. Looking at a few pages, including the opinions and testimonials of hundreds of customers more or less satisfied, we are rather reassured. So far, nothing to worry about.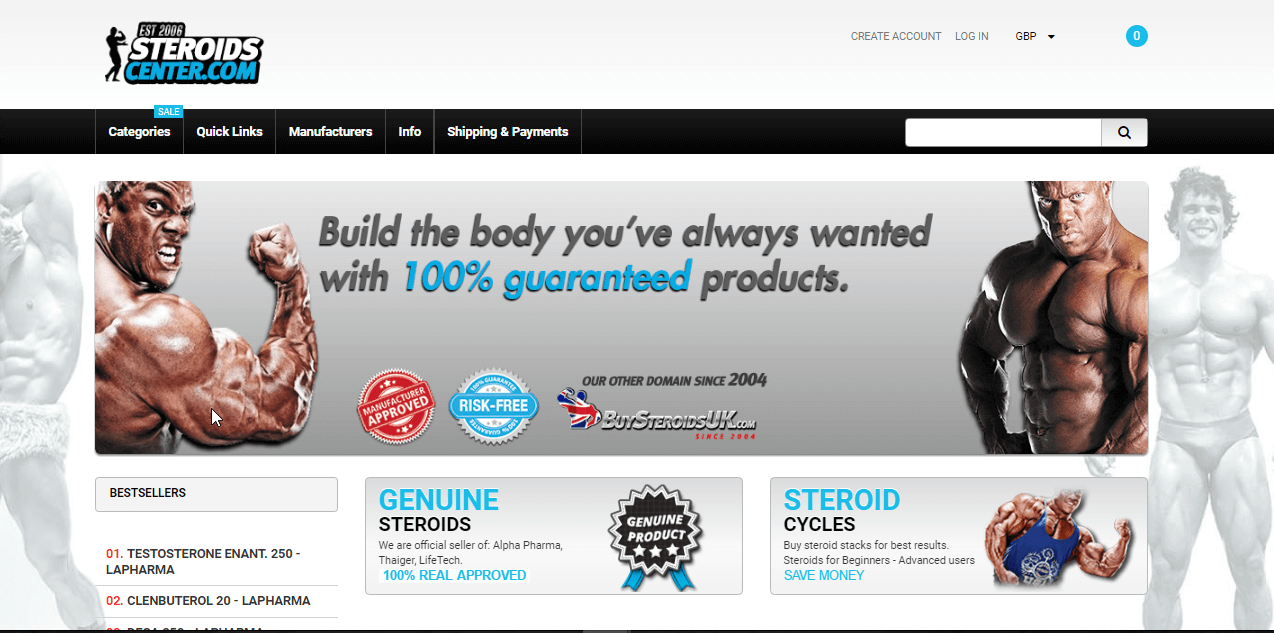 The site has undergone several redesigns and name changes since its existence.
If we want to buy on steroidscenter.com, we can directly select the products that interest us and add them to the map but it seems that we have to create a customer account to be able to send the order. The procedure takes a few minutes and payment instructions are still pending. From a professional shop, we expected a much simpler and faster purchase.
Steroidscenter.com offers a particularly extensive HGH and peptide section.
A complicated payment will tell some
The payment methods offered by online shops are usually by bank transfer or western union. However, steroidscenter.com, only Bitcoin payments are accepted. While we readily acknowledge that Bitcoin is more secure to protect our personal information, we believe that this method of payment is slower than others. Some go so far as to say that it is complicated and annoying. It took us about an hour to settle the payment and send the details. Then, 48 hours of waiting to confirm the validation of the order and the sending of the package with the tracking number.
Delivery too long
Reading the testimonials on the shop's website steroidscenter.com, we expected the delivery to take time. And unsurprisingly, that was the case. The announced delivery time was 1 to 2 weeks depending on the geographic location. But our package only arrived after 26 days. By checking with customer service at the end of the second week of waiting, we are told that it was sent to the wrong address. Fortunately, customer service has been responsive and responsive to solve our problem. However, the re-shipment took another 10 days.
Two broken vials at reception
When we received the package, we were blown away because there is no indication of what it can contain. If the exterior camouflage is successful, we were more than disappointed when we saw the interior. The vials were turned upside down and two of them were broken.  It is assumed that this is due to mishandling at the time of transport. No replacement is offered to us, especially since we have not paid the insurance guarantee, an option representing 10% of the total cost of the order and allowing to guarantee the return and delivery in case of problems.
The products are authentic
Before any use, verifying authenticity and reliability is a crucial step for us. A few searches are carried out directly on the manufacturers' sites. Authentication tests make it easy to verify where they are coming from. It seems that steroidscenter.com is truly an approved dealer of world-renowned pharmaceutical companies, as advertised on the site. It is also listed as authorized dealers on the manufacturers' website.
Value for money
The online shop 
steroidscenter.com
 offers rather high prices. Given the quality of its products, it can still be said that they remain reasonable in relation to the competition. It is therefore given an average rating in terms of value for money.
Conlusion
Product value for money

Customer service (pre- and post-sale advice, order follow-up)

Delivery (speed, packaging quality)

Payment (easy, secure, anonymity)

Time of existence and reputation on the Internet

Website (ergonomics, speed, adapted mobile display)
Résumé
Even though the e-shop steroidscenter.com is a pro in the field of selling steroids and growth hormones, it is found that its services lack a tad of professionalism. The authenticity of the products and the responsiveness of the customer service are the only positive points that will be noted regarding this online shop. We would have liked to have saved time when buying, paying and delivering. In short, the value for money did not convince us.